The W.J. Beitler Co. (Beitler) was founded by William J. Beitler on May 15, 1917, under an agreement to purchase a merchandise, brokerage, and distributing business for $500.00. The agreement was contingent upon the accounts accepting the purchaser and continued satisfactory representation and service as an agent in the county of Allegheny.
Our Founder – William J. Beitler
William J. Beitler (November 4, 1884 – October 2, 1970) was the son of Willibald Beitler, a German immigrant cabin maker. William grew up on the North Side of Pi­ttsburgh, PA. He was a St. Mary's Catholic Church member and is buried with his wife Anna in St. Mary's cemetery in Mount Troy. 
William attended St. Vincent College, Latrobe, Pennsylvania. In 1907, he began work as a Chief Clerk to Agent, Pittsburgh division, for the Baltimore and Ohio Railroad for ten years. Then in 1917, he left the railroad and received a 10-year pension. He held positions as Foreman, Platform Forman, Assistant Cashier, and Chief Clerk during his tenure.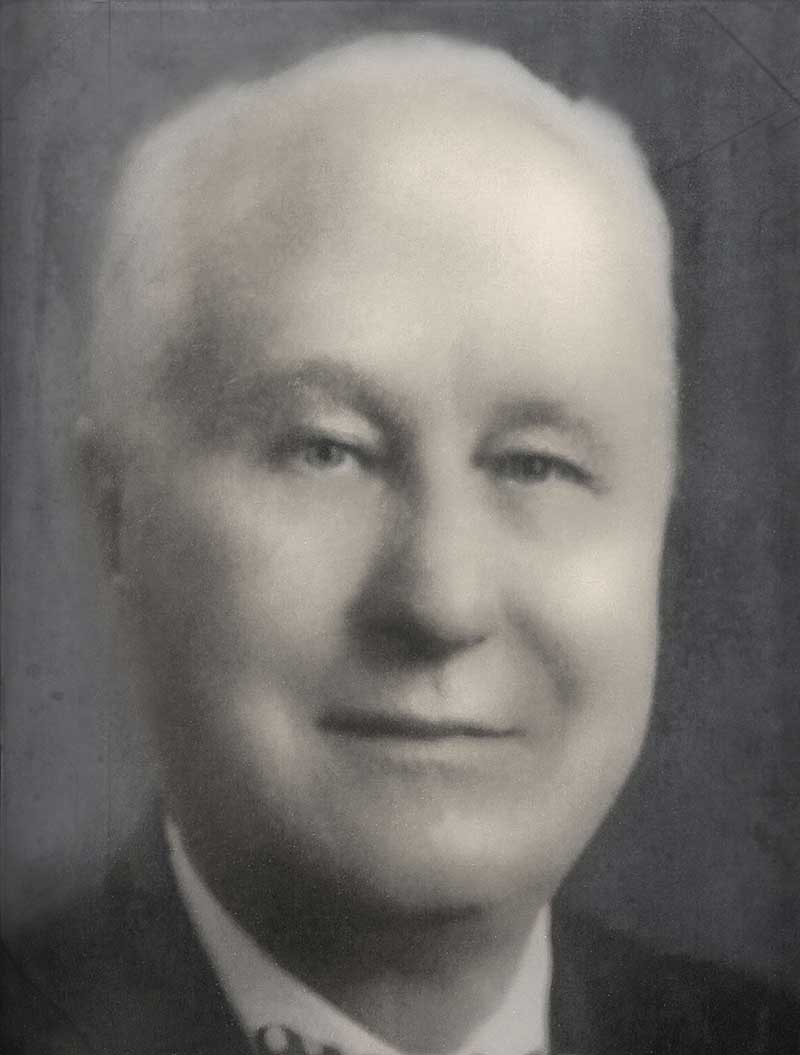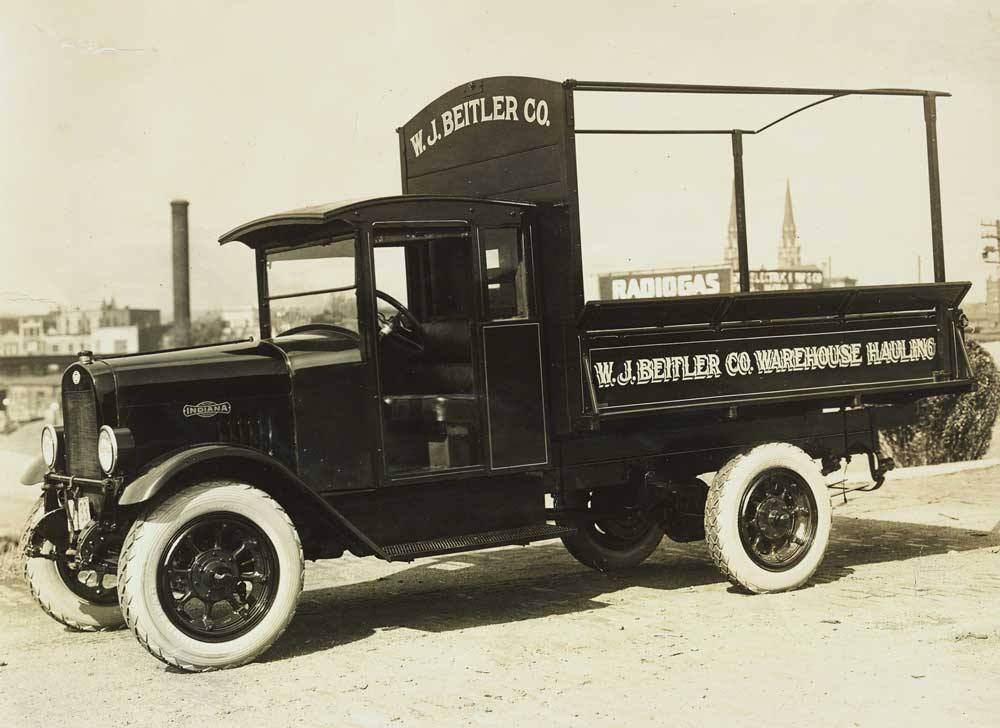 W.J. Beitler "Indiana" 1927
The Early Days of the W.J. Beitler Company
During the company's early days, the work process involved spotting rail cars of loading and unloading customer orders that would be delivered to consignees by horse and wagon in the Pittsburgh area. Eventually, orders were delivered by a vehicle named "Little Giant." The "Little Giant" had a chain drive and solid rubber tires, a significant upgrade from the horse and wagon method.
In 1921, less than five years after the company was founded, Beitler purchased a property in Pittsburgh on 2nd avenue with a rail car siding from B&O Railroad. This purchase was for Beitler's broker and distribution business.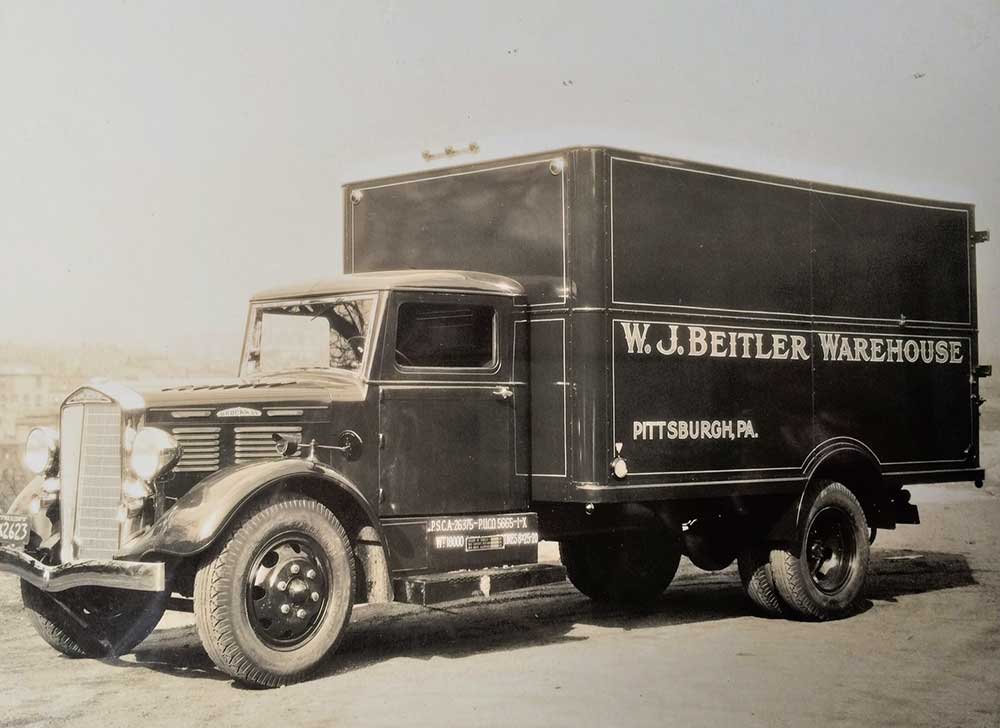 W.J. Beitler Truck 1950's
WAREHOUSING COMPANY
In 1924, because of the boxcar shortages from World War I, when the U.S. Government took over the railroads for the war efforts, and Beitler saw a need for warehousing. So the company rented space in B&O Railroad's warehouse and called it "The Baltimore & Ohio Stores." 
This new warehousing space was located at Anderson and Isabella streets in Pittsburgh's North Side. Products would be sold and physically distributed directly to wholesale agents from this facility. 
"The Baltimore & Ohio Stores" 
7 stories tall
Indoor rail sidings in the basement
Located between the 7th and 9th Street bridges
Would eventually occupy 6 floors
Beitler officially became a warehouse and trucking company, employing chain drive, solid tire, and pneumatic tire, open tarp, trucks.  
Growing from 1 County to 5 States
Over the next 20 years, all the major accounts began using warehouse operations with the company. Products were received by rail and delivered to wholesalers by truck. As the highways and trucks improved, the geographical area served by the company grew from one county to 5 states.
The Current W.J. Beitler Company
In 1954 when Beitler built their warehouse, they moved operations to Esplen, PA, located within the city limits just west of downtown Pittsburgh. Since the move, three additions were added to that original building in Esplen. To date, the company operates a full-service warehouse and a fleet of trucks.
W.J. Beitler Co. services many industries that have changed over the last 100 years. There is one thing that hasn't changed – their relationships. Each Beitler generation forms trusted and reputable relationships with their business partners and customers. 
Quality People 
Beitler credits its success over the years to the ability to hire and retain quality people. The Beitler employees reliably execute customer orders to a level exceeding customer's expectations.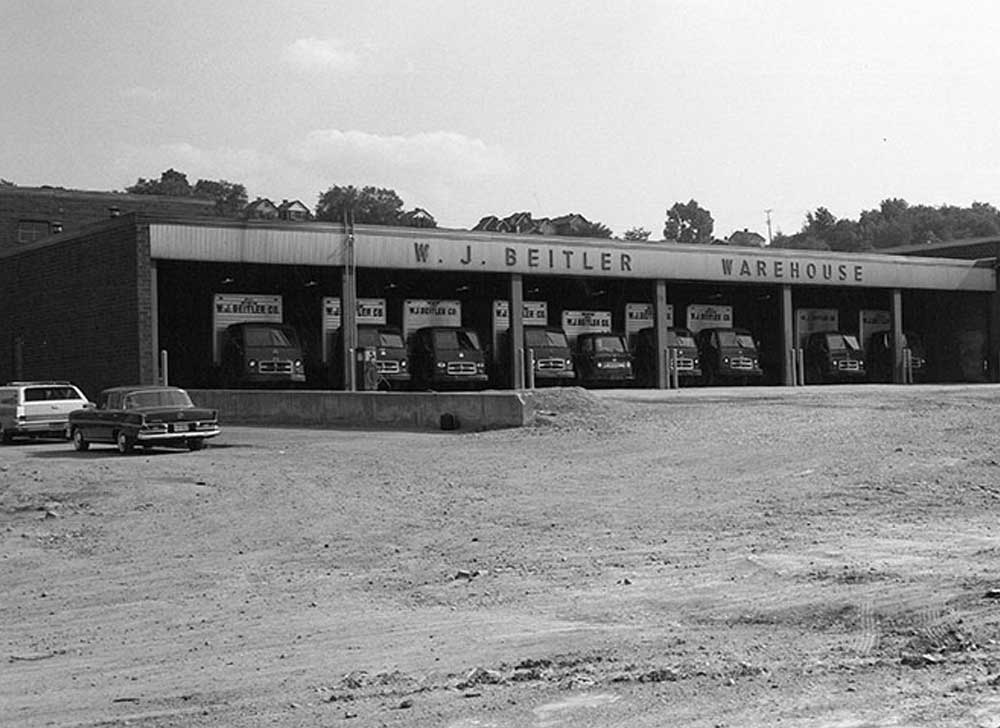 W.J. Beitler Warehouse Garage 1965
The Beitler Family
As a 100+ year family business, the company values Beitler was founded on still holds strong. Our executive team comprises of three fourth-generation Beitler members: William A. Beitler, Quentin J. Beitler, and Richard J. Beitler. Our founder William J. Beitler would be proud of the success William, Quentin, and Richard continue to achieve within the company.
Read more about our executive team's success and experience
Interesting Facts About the W.J. Beitler Company
Some interesting facts about the W.J. Beitler Company.
Dead Man's Pedal
The first Beitler standup forklift from the 1940s had a "dead man's" pedal. It would shut off the forklift in the event the operator fell off the equipment.
Hand-Pulled Carts
Orders were picked using hand-pulled carts with steel wheels (until the late '70s).
Hand-Stacked
Orders were hand stacked on the floor of the delivery trucks (until the late '70s).
First Location
At the first warehouse location, incoming products were hand stacked on two-inch-high pallets. Then they used elevators to store products on six different floors, each with 12-foot ceilings. 
North Shore
The first Beitler warehouse was located on the North Shore and has since been torn down. Alcoa's headquarters now occupy the same land.
Connect with the Beitler Team
Learn how you can experience the Beitler Advantage, contact us today.
  The Beitler Advantage
Everyone at WJB is committed to holding themselves to the highest levels of professionalism, honor, and honesty in every service area.
Executive Team
With over 20 years of experience in management and customer service, we aim to exceed expectations for all Beitler services.
Association Memberships
We continue to stay educated and current on all industry changes to ensure we can best serve our customers.
Environmental Sustainability
When you choose WJB services, you're helping lower your carbon footprint with our protocols.